Advances in modern dentistry can leave you with a much more pleasant experience than you may have had in the past and often with shorter duration appointments. With an unwavering commitment to high quality care based on superior technology and training, we can help you maintain the health and beauty of your smile through a full selection of general and cosmetic dentistry procedures.
Our friendly, caring staff is dedicated to giving you quality care at an affordable price. We listen to your needs and explain your options clearly. We are committed to preventative care and making each patient visit a pleasant experience. It's easier than you think to achieve a beautiful smile and a lifetime of healthy teeth and gums, if you are willing to take it one step at a time. No matter what condition your teeth are in, right now is the best time to begin. An exam, x-rays, and pictures of your mouth can tell us everything we need to know to come up with a step-by-step plan. We recognize that all of our patients are unique and deserve to receive dental care that reflects their individual needs.
Dentists
Our experienced and talented dental team are committed to working with you and your family to create a comfortable, stress-free, and rewarding dental experience every time you visit our practice. We are pleased to welcome you and your family, and we look forward to working with you.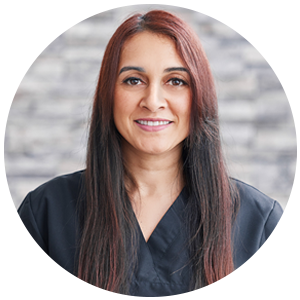 Dr Shahnaz Khan B.Ch.D (UWC)
Dr  Khan qualified at the University of the Western Cape in 1995. After graduating from university, she went to live and work as a Dentist in Norfolk, England.
Whilst in the UK, she completed a yearlong implant course and advanced restorative courses in cosmetic dentistry headed by some of the most internationally renowned dentists including Dr Hilt Tatum (Dental Implant Pioneer), Dr Stuart Orton-Jones (International lecturer on Quality Dentistry).
In 2002 she returned to Cape Town and took over Kromboom Dental Centre. She has worked and trained to build a practice that meets and exceeds your expectations of trusted, personalized dental care. She focuses on bringing her patients only the best that dentistry has to offer by keeping herself and her staff informed on the latest advances and techniques in dentistry. With over 20 years of dental experience, in 2018 she joined Dr Marian's Paradise Road Dental Practice.
Dr Khan has been a dentist for many years and is passionate about holistic and integrative aspect. She has seen many patients who mouth breathe, have crooked teeth, tongue thrusts, and overactive facial muscles. It wasn't until she was introduced to Orofacial Myofunctional Therapy that she learned  that these weren't due to "just genetics," but that it was improper, unconscious habits that were creating these unfavourable traits. This led her to the field of Orofacial Myofunctional Therapy. She pursued many courses related to this topic in the quest to find answers to her own kids dental and orthodontic issues. She is a certified Orofacial Myofunctional Therapist and Myobrace provider. Since then,  she has been helping patients through proactive techniques that help develop and maintain correct resting tongue posture, nasal breathing, lip seal, and a correct swallowing pattern.
The introduction of Myobrace into her practice has become a game changer as it results in straighter teeth and improved function leading to optimal facial development and a healthier smile and overall healthier child. Since she is passionate about prevention, this added to her armamentarium to prevent future oral, orthodontic and overall health issues. Her aim is to get all of her patients nose breathing and all her young patients on the path to normal facial growth and development with little or no need for braces.

Her practice philosophy is to provide quality dentistry in a caring, respectful, efficient, and professional manner. She practices comprehensive dentistry by creating a direction for each patient based on his or her needs. Dr Khan loves  learning and enjoys taking business, communication and marketing courses. She truly loves being able to help people, whether it is through helping them obtain beautiful and healthy smiles or being able to relieve their dental pain. She also being able to show patients that the dentist isn't someone that they have to fear, and feels great when patients come to KDC with a smile! She enjoys all aspects of dentistry and takes great joy in her profession.
---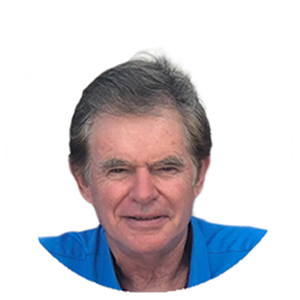 Dr JC Hamman B.Ch.D (U Pret)
Dr Hamman  graduated from the University of Pretoria in 1976, where he met his wife Mary Anne who was doing her Oral Hygiene course at the same dental school. After graduation, he did his National Service as a dentist in the navy in Simons Town. He then went on to live and work in the  UK as a general dentist in a  West London Practice for 6 years. With a particular interest in Oral Surgery, he did a course in Minor Oral Surgery at Eastmans Dental institute London.
On his return to Cape Town in 1983, he took over a practice in the CBD where he practiced for 6 years whilst also being a part time lecturer at UWC 1985 – 1990. In 1989, he relocated his practice to Campground Road on Rondebosch where he continued to practice for nearly 30 years until in late 2018, he sold the building at Campground Road and moved his patient base to Paradise Dental in Newlands where he practices twice a week. 
Although he has been practicing for over 40 years, each day brings something new and intriguing that allows him to use all his experience and knowledge to help his  patients achieve their health and aesthetic goals. Dr Hamman  enjoys helping his patients feel better about their health, solving their dental concerns, and growing a friendly relationship with them for a lifetime. He always strives to put his patients first and understand their unique needs and desires. 
Having always been interested in living a healthy, active lifestyle, Dr Hamman enjoys helping patients be the best they can be. The long-term relationships he has built with his  patients over the decades have provided him with great joy. 
Dr Hamman was the founder member and secretary of Combined Dental study group for many years. When it was time to consider retirement,  Dr Hamman started looking for a successor that would continue the care he wanted for his  patients and identified Dr S Khan as the ideal candidate to provide that care and when the time comes, he will leave his patients in the care of Dr Khan and the rest of her team who will continue to provide his patients with the same quality and care they have come to expect from Dr Hamman. 
Dr Hamman's interests include gardening, road running and music ( frustrated drummer) and is the proud father of 3 sons and a daughter and a grandfather and enjoys playing an active part in their busy lives. 
---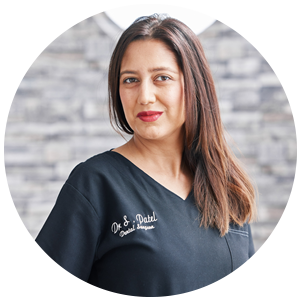 Dr Sabeeha Patel B.Ch.D (UWC) PDD Aesthetic Dentistry (UWC)
Dr Patel graduated from the University of Western  Cape in 2010, after which she completed her community service at 2military Hospital in Cape Town . She has gained experience over the years in both the public sectors, Tygerberg and Red Cross Children's Hospital , as well as the  private sector at SAMWUMED ,and various other practices . In 2015 , Dr Patel attained her Diploma in Aesthetic Dentistry at the University of the Western Cape, and this is where she discovered her passion in medical aesthetics.  
Dr Patel continuously attends independent training workshops and congresses to keep abreast of the dynamic industry of medical aesthetics .  With a  warm and gentle approach , Dr Patel looks forward to offering her patients a holistic and integrated approach to dental care .
Dr Patel enjoys all areas of general dentistry, is one of our after-hours emergency dentists and has a keen interest in developmental orthodontics and preventive dentistry. In 2018, she completed the Myobrace Course and treats both adults and children using the Myobrace system together with oral myology and is often able to treat jaw alignment problems which may result in simpler treatment plans. She  also has an interest in the use of facial growth orthodontics to correct crowding as well as treating airway issues, creating healthy patients, great faces and a beautiful smile.
She understands the importance of treating the whole patient, realizes that dental care should not be "one-size-fits-all" and that open communication with her patients will ultimately lead to excellent treatment and a very satisfied patient.
Dr Patel has particular interest in non-surgical facial optimization , skin rejuvenation and especially anti-aging treatments with focus on wrinkle relaxing injections (Botox )and dermal fillers and continuously attends independent training workshops and congresses to keep abreast of the dynamic industry of medical aesthetics .  With a  warm and gentle approach , Dr Patel looks forward to offering her patients a holistic and integrated approach to dental care .
---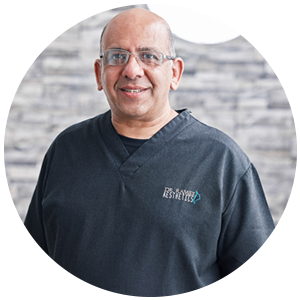 Dr. Bavnesh Ramjee DDT (CPUT), BT(CPUT) B.Ch.D (UWC), PDD Dental Aesthetics, (UWC) PDD Implantology (UWC), PDD Medical Aesthetics)
Graduating from CPUT, with a Diploma in Dental Technology in 1987, Dr Ramjee worked as a dental technician. After running his own dental laboratory for many years, he decided to further his career. In 2002 he completed his Bachelor's Degree in Dental Technology [Cum Laude] and then pursued his Degree in Dentistry, graduating at UWC in 2008. After completing his community service in 2009, he opened up his own private practice in the heart of the CBD in 2010. He then completed PDD courses in Implantology and Aesthetics respectively, after which he found his true passion in the field of Medical Aesthetics . This led him to completing advanced courses in the field of Botox, Fillers, Mesoesthetics, PRP, Plexr plasma pen soft tissue treatment and Aptos Threads. Combining these modalities with Digital Smile Design and Clear Aligners, he achieved a holistic approach to beauty enhancement and anti-ageing. In 2020, after working in the CBD for 10 years, he joined the Paradise Dental Team as a full time dentist and after-hours dentist.
Dr Ramjee is a caring ,dedicated, and ethical professional who truly gets to know his patients. He understands that each patient has different needs and expectations, and therefore feels that all treatment should be customized according to the person, not the tooth and provides expert dental care for patients of every age. Patients can expect a kind, enthusiastic professional with a genuine interest in his patients and guides them through a lifetime of dental care.
Dr. Ramjee excels in connecting with others and has the innate gift of making patients feel comfortable, respected and cared for. His relaxed and calm demeanor helps put patients at ease. He is well known for his kindness, caring, empathy, and the total commitment he brings to meeting every patient's needs. Even the most apprehensive of patients are put at ease by Dr. Ramjee's calming bedside manner and gentle approach.
He believes that behind every smile is a person and that a trusting doctor-patient relationship is essential in achieving treatment success. His positive outlook is a crucial part of the team that makes our patients' experiences as comfortable and enjoyable as possible.
Emergency Dentists
While we offer a 24 hour emergency dentist, an afterhours emergency dentist and a weekend emergency dentist, we also have an excellent dentist . Dr. Ramjee, who is a qualified dental technician and dentist. We have Dr Patel and Dr Shih who have a special interest in paediatric dentistry and Dr Taliep who offers the utmost standard of care with any dental emergency. So you can feel confident that your emergency dentist also provides quality dental care.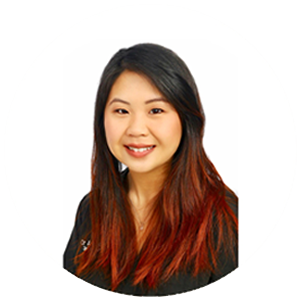 Dr Amanda Shih B.Ch. (UWC)
Dr Amanda Shih obtained her dental qualification at the University of Western Cape in 2015. She completed her community service at Pelonomi Hospital in Bloemfontein and then returned to Cape Town. She has since been working in the private sector in Cape Town.
With a particular interest in restorative and cosmetic dental treatment as well as general, paediatric and preventative dentistry, Dr Shih enjoys working with people, especially patients who are anxious to be in the dental chair. She takes pride in finding ways to make visits to the dentist a rewarding experience.
Dr Shih is excited to grow her clinical knowledge and utilising the latest technological advanced in dentistry to help restore the confidence in patients' smiles. Dr Shih is one of our after-hours dentists and works part time at the practice. She is fluent in English, Afrikaans and Mandarin.
---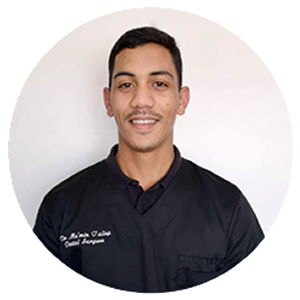 Dr Mu'min Taliep B. Ch.D (UWC)
Dr. Mu'min Taliep is one of our after-hours dentists. Dr Taliep received his B.Ch.D degree from the university of the Western Cape in 2011 followed by his community service year at Maitland Day hospital in 2012. He began his private practice career in 2013 and since then has dedicated his practice to holistic dental restoration. He is competent is all aspects of general dentistry and this treatments range from simple fillings to wisdom teeth extractions. He goes to great lengths to help even the most nervous patients feel comfortable during their visit by listening to their concerns and allowing them to be an integral part of their own treatment plan.
Oral Hygienists
There's nothing like having your teeth cleaned by an experienced oral hygienist. At Paradise Road Dental Practice, we promise to provide professional, knowledgeable care. Our hygienists are an integral part of the clinical team. To maintain our level of expertise, our hygienists are well-trained and skilled. Please feel free to discuss your dental questions or concerns with any of the hygienists.
---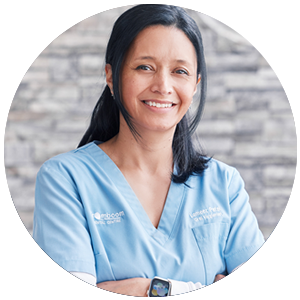 Lameez Patel DipOH (UWC)
Lameez works part time at Paradise Road Dental Practice. Her professionalism and passion for patient care exemplify what our practice is all about. She attended the University of the Western Cape and received her Diploma in Oral Hygiene in 1999.
Lameez is an Oral Myofunctional Therapist, Myobrace Educator and completed a mini dentist course which has broadened her scope of work. This therapy helps patients with a variety of muscular and airway disorders. This is such an interesting and rewarding field and has a personal connection with her as her kids are also suffer from Myofunctional and breathing disorders. Myofunctional Therapy's importance has been noted with its connection to sleep apnoea.
Lameez is passionate about bridging the gap between Oral Hygiene and OMT and getting her patients to chew, swallow and breathe correctly. Her aim is to help young and old alike to improve poor muscle pattern caused by thumb sucking and grinding just to list a few. Her greatest reward is seeing her patients happy and healthy. She takes tremendous pride in helping patients transition from a state of poor oral health to a state of good to excellent oral health. It's always her goal to make anxious patients feel comfortable and at ease.
She has the ability to make everyone with whom she comes in contact feel like a long lost friend, even when they are meeting her for the very first time. Patients adore her cheerful personality! We don't know how she does it, but she is happy all the time, which makes everyone around her happy, which is why we (and our patients) love her so much.
Lameez imparts a professionalism to her responsibilities that leaves patients impressed and satisfied with their treatment. She not only teaches our patients proper brushing and flossing techniques, but counsels them on nutrition, breathing, speech and preventive measures to get their jaws developing normally and keeping their teeth and gums healthy. It's always her goal to make anxious patients feel comfortable and at ease.
---
Mary Ann Hamman DipOH (Pret)
Mary Ann graduated as an Oral Hygienist from the University of Pretoria and Guys Dental School in London , where she worked in private practice for 6 years. She also worked alongside her husband in a private dental practice in Cape Town.
Mary Ann is a mother of 4, certified Hypnotherapist and has also been involved in the Wellness Industry for 20 years where she has accumulated a wealth of knowledge to help educate, guide and motivate patients in maintaining their oral health.
She loves to take care of people, and provide the oral hygiene services in a relaxed, caring environment. The best part of her job is bonding with her patients and helping them feel comfortable during their visits.Her goal is to educate and provide information so that patients can improve their oral health, thus contributing to the well being of their general health.
---
---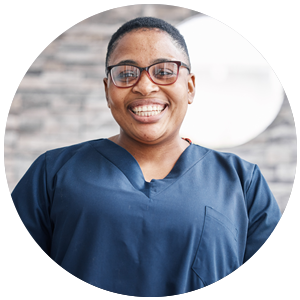 Milo - Sterilisation Nurse
Milo manages our sterilization facility and keeps our practice current by following the strictest sterilization standards. She is tasked with the proper handling, cleaning, assembly, testing and packaging of many kinds of dental instruments. The usual methods of sterilizing are with heat or chemicals. Milo supports all members of the team and ensures all instruments are sterilized and prepared for safe use in our procedures.
---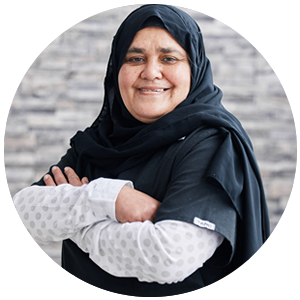 Fatima - Receptionist
Our receptionist looks forward to greet you and help coordinate your appointments. Amongst other administrative duties, she take payments, charge up medical aid claims, book and confirm appointments, coordinate appointments with our dentists and oral hygienists.. She is our front line of communication and can answer many of your questions. Together they keep the practice running efficiently and smoothly. Their goal is to make sure you are smiling on the way in and out of your visit to our practice.
---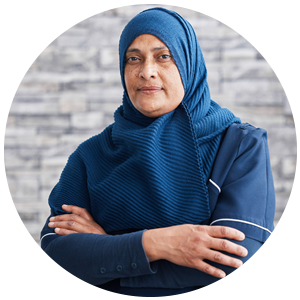 Jasmina - Accounts
Jasmine is our financial coordinator and debtors clerk. She manages our accounts payable, general ledger and medical aid processing and queries.
---